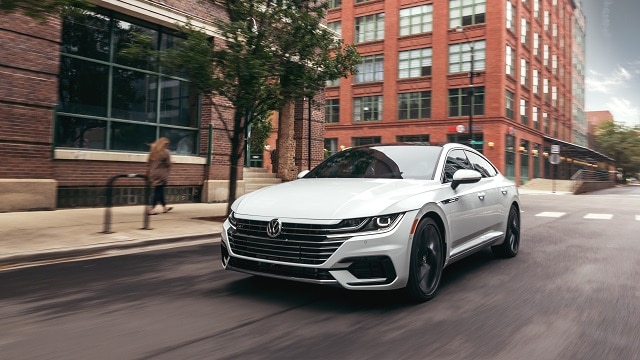 The All New 2019 Volkswagen Arteon Makes Its Debut in the USA
After nearly a year of waiting and much speculation, the all new 2019 Volkswagen Arteon finally makes it to the USA for its exciting debut. The VW Arteon has a seductive exterior with exciting interior features and technology. Offering more space than the Passat it is thought to have replaced, the Arteon is the sleek sedan Volkswagen drivers have been patiently waiting for.
Engine, Ride and Handling
The all new Volkswagen Arteon is powered by a 268-hp turbocharged 2.0 liter four-cylinder with an eight-speed automatic transmission. Front wheel drive is standard on all Arteon models, however, all-wheel drive with 19-inch wheels are an option. Adaptive suspension is also standard, making your ride smooth regardless of your driving styles. The Arteon's steering is precise and direct, just as you would expect from Volkswagen's German engineering.
Interior Design and Technology
Volkswagen has artfully designed the cabin of the 2019 Arteon. Standard features include a touchscreen infotainment system, a three-zone automatic climate control, and sports seats with optional massage. Space is incredibly generous thanks to a sensibly integrated hatchback which opens-up to an incredible amount of cargo space. The Digital Cockpit option replaces a less sophisticated instrument panel that allows drivers to configure information to their preferences. Basic driver assistance, including emergency braking and blind-spot monitoring also are all standard features. Optional advanced technology includes adaptive cruise control, lane-keeping assistance, and automatic high-beam headlamps.
Sleek Design and Available Features
The combination of style, luxury and practicality makes the all-new 2019 Volkswagen Arteon incredibly enticing. Although a spacious sedan, the Arteon has a coupe like profile. However, the Arteon is much larger than other Volkswagen coupe options due to a wheelbase that stretches to 111.7 inches – more than an inch longer than the Passat and five inches longer than the CC's. This makes the backseats exceptionally roomy for tall riders.
Interior detailing means high quality materials are used throughout with a functional, friendly design that can nearly compete with luxury end competitors. In fact, the name Arteon is based on the word 'art,' meaning you can expect the materials, design and features to be eye-catching and elegant, exactly what you would expect from a premium car model. However, the design space can't be overlooked. Outside of the appealing look, the Arteon is an ideal car for anyone who needs space with premium esthetic. The luggage compartment is so large it can fit a full set of golf clubs!
Schedule A Test Drive
The Arteon has been continually compared to the Passat CC. But drivers should realize that the Arteon is no Passat. With more space, larger footprint and large array of luxury features and upgrades available, the Arteon is a mid-sized sedan in a league of its own. Call 415-578-9171 to schedule a test drive today. You can also visit our showroom at 720 Francisco Blvd. W in San Rafael to speak with one of our sales professionals Monday – Friday.