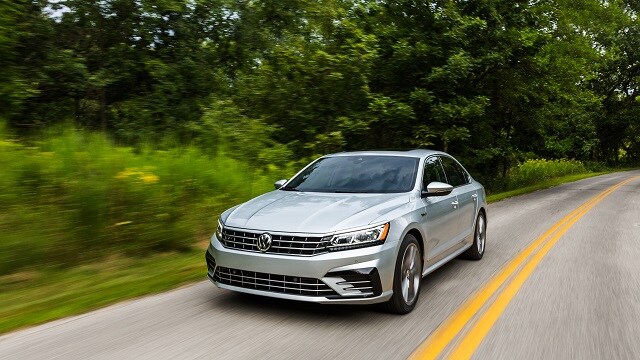 The Volkswagen brand is commonly celebrated as the brand for drivers who love to have fun, explore and live life to the fullest. The 2019 Volkswagen Passat brings these images of joy to a mature, family-friendly sedan that offers a controlled ride, reliable handling, and a huge interior perfect for families or drivers who need space for the adventures. The 2019 Volkswagen Passat is the ideal choice for people who want German-style reliability with an American take on space and comfort for the family.
Space and Comfort
One of the stand-out features of the 2019 Volkswagen Passat is the spacious and comfortable features. Experts call the interior design one that is centered on "clean lines" and "utilitarian." However, once you are inside the car, you see it is one of the most spacious, and comfortable sedans in the line-up.
When it comes to cargo space, much depends on the back seats being in use or being laid flat. When they are laid down, there is an impressive space to store golf clubs, boxes, or your family's sports equipment or strollers. However, when the backseats are up, space becomes a bit more limited due to the expansive spaced allocated to the back seat.
Safety and Driver's Assistance in the Passat
Volkswagen has always been a brand that celebrates high safety ratings. The 2019 Volkswagen Passat earned a five-star crash-test rating from the National Highway Traffic Safety Administration and notable results from the Insurance Institute for Highway Safety.
When it comes to safety features, even the standard model includes forward-collision warnings and automated emergency braking, as well as blind-spot monitoring and rear cross-traffic alert. Adaptive cruise control, lane-keeping assistance, and rear parking sensors are available on more advanced models.
The Bells and Whistles of Performance and Entertainment
The 2019 Volkswagen Passat does have many bells and whistles worth highlighting. The single powertrain option of the Passat is a 174-hp turbocharged 2.0-liter four-cylinder and a six-speed automatic transmission. This sets drivers up for a smooth ride and efficient fuel-economy.
All models of the 2019 Volkswagen Passat include a 6.3-inch touchscreen with a three-month subscription to SiriusXM satellite radio, Apple CarPlay, and Android Auto. Top models also include USB ports throughout, a premium sound system and a 6-month subscription to Volkswagen's Car-Net services, which allows users to locate the vehicle, call for roadside assistance and unlock the car remotely from a smartphone.
Schedule A Test Drive
Now is the perfect time to test drive a new 2019 Volkswagen Passat. With a wide selection of inventory, you are sure to find the perfect Passat! Visit our showroom at Sonnen Volkswagen, located at 720 Francisco Blvd in San Rafael, CA Monday- Friday from 9 AM to 7 PM. You can also call us at 415-799-8386 or schedule your appointment online.