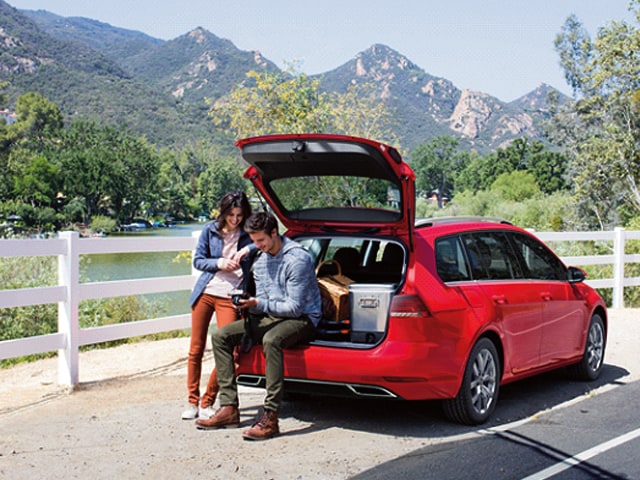 Over the years as SUVs, or Sport Utility Vehicles, have become more popular, the trend has been to provide more upgrades, fancier finishes, and unique stylings. And as much fun as a new car with all the bells and whistles can be, many of these cars lost their 'sportiness.' The Volkswagen Golf SportWagen offers the practicality of a SUV that many drivers are craving. If you are looking for a car with a low-profile, rear hatch, a ton of cargo room and epic driving reliability, the Volkswagen Golf SportWagen is exactly the vehicle for you.
A Spacious Interior with Touches of Fun
The Volkswagen Golf SportWagen is often described as practical. But practical comes with some fun details and features. First, the SportWagen seats five people, comfortably while still allowing expansive space for cargo in the back. Interior details include comfortable leatherette seats, an intuitive infotainment system, and a mind-boggling panoramic sunroof that stretches nearly the entire length of the roof! Even better? The sunroof is flanked by roof rails, which provides even more space for storage for long trips or big hauls. There is not much that can be described as fancy, but it is a practical car with really enticing detailing.
Horsepower for Your Golf SportWagen Adventures
The wagon market is often not associated with great power. However, Volkswagen has packed its SportWagen with a punch, offering a standard 147 horsepower turbocharged engine. The SportWagen also has the option for the 4MOTION all-wheel-drive system, which transfers torque between the front and rear wheels when driving conditions change. On FWD models, the 8-speed automatic transmission offers excellent acceleration and gear changing. But, choosing the Tiptronic and Sports model allows you to customize your drive and charge your driving fun!
Safety, Technology, and Ease of Driving
You can expect some fun and helpful technology upgrades in the Volkswagen Golf SportWagen. App-Connect allows you to plug your smartphone into your car and you can then use the touchscreen to manage your apps. VW Car-Net Security & Service connects your car to your phone. It will alert you with sunroof rain notifications, open vehicle notifications and even provide parking information so you never forget where you left your car again! Finally, technology allows peace of mind with adaptive cruise control, blind-spot monitoring, light assist, lane assist, front assist, and rear traffic alerts.
Schedule A Test Drive Today
Sonnen Volkswagen is your one-stop dealership for all Volkswagen. If you have ever thought of a SportWagen, now is the perfect time to learn what the newest models have to offer and decide if it is the right car for you. Meet with one of our knowledgeable sales professionals and take the SportWagen out for a test drive. Stop by the dealership located at 720 Francisco Blvd W San Rafael, CA, schedule a test drive online or call 415-578-7532 today.