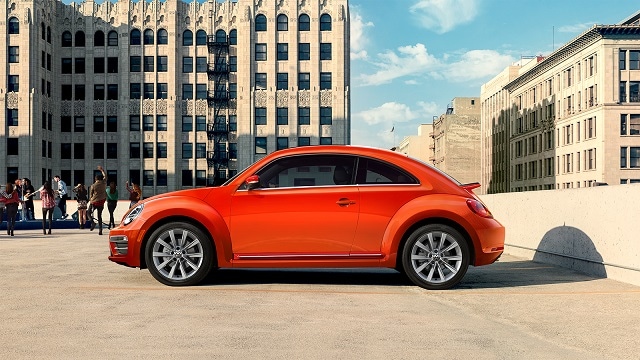 It appears that the enduring legacy of the Volkswagen Beetle is coming to a close with two final editions to the iconic car. The Volkswagen Beetle is universally recognized as a playful and efficient with mass appeal. Making its first appearance in the 1930s, the car became a symbol of redeveloping post-war Europe. Today, the car is a global phenomenon, with factories spread throughout the world and over 21 million cars sold. But, before the last Beetle rolls off the manufacturing belt, Volkswagen is releasing two final editions of the car as one last hurrah to the Volkswagen's legacy.
The Volkswagen Beetle's Final Edition
The Final Edition is available in both convertible and hardtop. Like all previous Beetles, it is home to a 174-hp turbocharged 2.0-liter inline-four, six-speed automatic transmission. Again, like previous beloved Beetles, there is a great get-up-and-go, going from zero to 60 in 7.2 seconds. However, people do not buy a Volkswagen Beetle for power and performance. The engine will ensure a consistent and reliable ride that is nothing but fun. The experience driving the Final Edition will not be that of a fast engine, it will uphold its legacy of being a fun and simple car that will drive you toward a good time.
The Final Edition Has Fun, Unexpected Finishes
Experts agree that the specialness of purchasing the Final Edition is not how it drives, but the interior finishes. Even the most basic model, the SE, has a sophisticated appeal with cloth seats in black and tan with rhombus-patterned contrast stitching. The SEL Final Edition boasts diamond-patterned stitching on leather seats which really does offer a unique texture to the interior design. Both models offer a tan-colored dash insert, stainless steel trimmed pedals, and a glossy black finish for the center console and door panels.
One of the most fun aspects of the Volkswagen Beetle's Final Edition are the two exclusive colors that are only offered with the Final Edition: Stonewashed Blue Metallic and Safari Uni. You can also except VW Car-Net App-Connect, a heritage-inspired glovebox, a 6.3-inch touchscreen navigation system, and options to include a Fender Premium Audio System and 18-inch white disc alloy wheels. Some have said Volkswagen has 'saved the best for last." We would have to agree.
Time for A Test Drive
Time really is limited when it comes to owning part of the Volkswagen Beetle legacy. With the Final Edition available for purchase, there is, sadly, an end of an era coming soon. Stop by Sonnen Volkswagen today and test drive the Final Edition. Schedule your appointment online or by calling 415-578-7532 today. You can also visit our showroom located at 720 Francisco Blvd West, San Rafael, CA 94901.